2024 Audi SQ8 e-tron : In his prime, former Major League Baseball player Pablo Sandoval was surprisingly agile for his size—he stood five feet ten inches tall and weighed 268 pounds. The adored infielder, who already went by the moniker "Kung Fu Panda" after deftly dodging a catcher to evade a tag in a 2008 game, helped the San Francisco Giants win three World Series between 2010 and 2014. His skill belied his hefty frame.
Regarding the three-plus-ton 2024 Audi SQ8 e-tron, the same could be said. The SQ8 e-tron, formerly known as the e-tron S, is 193.5 inches long and 77.8 inches wide. It is significantly wider and taller than Audi's mid-size A6 sedan. Nevertheless, this opulent performance SUV demonstrated some mass-defying athleticism in the mountains outside of Los Angeles.
The SQ8 e-tron is the best-performing version of Audi's largest electric luxury SUV, even though it isn't a fully fledged RS model. A total of 496 horsepower and 718 pound-feet of torque are produced by three induction AC electric motors, one on the front axle and two at the rear. This is 228 pound-feet and 94 ponies more than the standard Q8 e-tron. Although not slow, Audi's estimated time for a 60-mph sprint is 4.2 seconds, which isn't as fast as other performance-oriented EVs either.
The corners are where the real action is. The unexpected agility of the Audi SQ8 e-tron is attributed to its rear-biased quattro all-wheel-drive system and electric torque vectoring in its two aft-mounted motors. Every five milliseconds, the system can adjust to provide more torque to the outside wheel while braking the inside one. As a result, we can attack curves with a sharp turn-in, and we can feel the motors redistributing torque quickly as needed to help us maintain greater speed through the turns. The SQ8 quickly stands apart from the comfort-focused Q8 e-tron thanks to the way the rear end can wriggle under power.
A new 14.6:1 steering ratio that is available on all Q8 e-tron variants highlights this captivating character by offering a response that is quick but not darty. While the SQ8's steering feels more substantial in Dynamic mode, it is never overly heavy when in Comfort mode. The SQ8 e-tron's steering may not be the most expressive in the industry, but it has a subtlety to it that makes this beast seem lighter and smaller than it actually is.
With significantly firmer bushings, stiffer anti-roll bars, and updated damper tuning, the SQ8's suspension and chassis set it apart from its more mundane sibling. Because of these improvements, the SQ8 no matter how hard we push it stays remarkably flat around corners and reduces body roll. The SQ8 remains stable thanks to the standard air springs' skillful absorption of midcorner bumps. Its 1.4-inch wider track, which sits beneath protruding fender flares, also helps handling; this is the only non-RS Audi with a widebody appearance.
But because of the optional 22-inch wheels with summer tyres and a ride tuned for aggressive driving, the cabin occasionally jolts from a harsh impact. Although this isn't the smoothest-riding luxury SUV, comfort mode does keep the suspension reasonably compliant in urban areas. The SQ8's standard 20-inch wheels and all-season rubber should soften the ride (and boost efficiency) at the expense of some handling ability for those looking for a compromise between this and the standard Q8 e-tron.
Significantly, in light of the SQ8's weight, the brakes are robust, featuring single-piston callipers and 13.8-inch rotors at the back and six-piston callipers and 15.7-inch rotors up front. Pedal feel is firm and reliable, blending friction and regeneration seamlessly and outperforming some competitors' squishy, unreliable stoppers. The three regenerative braking modes do not, however, permit complete one-pedal operation, which would have been convenient when we got back to the congested streets of Los Angeles.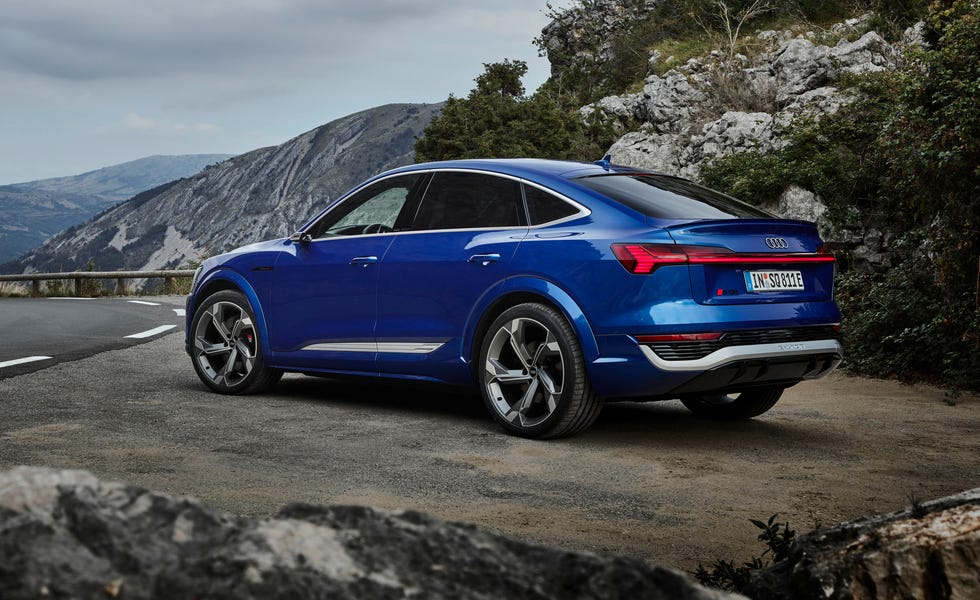 The 2024 SQ8 e-tron gets a larger battery in addition to a new name; it replaces its previous 86.5-kWh unit with a new 106.0-kWh pack. Audi is able to fit that larger battery into the same-sized compartment thanks to improved battery chemistry and more effective packaging. The Sportback's EPA-estimated range increases to 253 miles from 212 miles. The range decreases to 218 miles when equipped with 22-inch wheels and summer tyres, as our example did, but that is still a significant improvement over the 185-mile rating from a similarly equipped 2023 e-tron S Sportback.
The updated aerodynamics of the SQ8 e-tron not only increase range but also enhance the SUV's appearance. The new curtains on the front bumper direct air around the wheels, and the spoilers below lessen wheel turbulence. Active shutters are integrated into a more streamlined grille, and golf-ball-shaped dimples on the flat underbody further increase aerodynamic efficiency. Even with an unusual Los Angeles rainstorm battering the steel and aluminium bodywork, the SQ8 e-tron is remarkably silent inside, in part because of its newly discovered slipperiness. At highway speeds, very little wind noise enters the cabin; the calm is only broken occasionally by the sound of suspension hitting cracked pavement.
With a combination of suede and leather and brushed silver brightwork accents, the cabin is essentially the same as the departing e-tron S. The rear seat is roomy, and even with the Sportback model we drove having a sloping roofline, headroom felt adequate. The Audi display is clear, well-organized, and user-friendly, even though we still prefer physical controls for some features, such as the climate controls, which are located on a secondary screen.